I claim to be a "stickler for grammar," and I hope you believe me, but it's hard to prove when you see the error-free final product, not the proofreader's or editor's marks.  Well today I present evidence to support my claim.  In a recent e-newsletter, grammar expert Karen Reddick, "The Red Pen Editor," recognized me for a question I sent to her after I spotted some questionable grammar in a newspaper article.  Here's what she sent: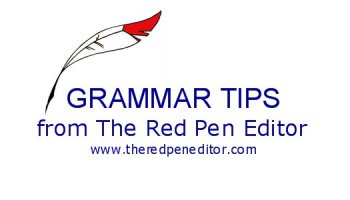 One of my faithful readers, Mariam Williams from Kentucky, wrote in: For years, I only heard it, but now I'm seeing "try and" instead of "try to" in many articles in print.  For example, I saw the following sentence from a recent article:
"Try and make the career change transition a smooth one."
Mariam wanted to know if this was an acceptable form to use.
Technically, this writer should be using the preposition "to" and not the conjunction "and". Although "try and" has become somewhat of an accepted informal idiom (although not in any of my style manuals), perhaps the journalist of this story was writing informally.
If you use "try and" then you are indeed separating "try" and "make" so you are describing two things: trying and making.
That said, when you use "try to" – as in "Try to make the transition a smooth one" – you are using the preposition "to" to link the trying to the making.
I wouldn't get too worked up about this, but if I were editing this piece, I would change it to "try to".
Happy Writing!
— Karen Reddick, The Red Pen Editor
Now do you trust Research Works to edit your documents?
Read more about Karen Reddick and get weekly grammar tips at TheRedPenEditor.com.
———————————————
© Mariam Williams and Research Works, 2009. Unauthorized use and/or duplication of this material without express and written permission from this blog's author and/or owner is strictly prohibited. Excerpts and links may be used, provided that full and clear credit is given to Mariam Williams or http://www.letresearchwork4you.net, with appropriate and specific direction to the original content.  Any use and/or duplication of any photo contained within this blog without express and written permission from researchworks and Mariam Williams is strictly prohibited.